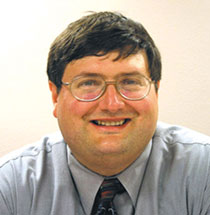 Enamic: A novel ceramic system
Lecture Description:
Conventional ceramics and composite resins both have several advantages and disadvantages. An ideal material combines the best properties of both into a single material. Research conducted over the past several years led to the production of a material with ideal properties for milled restorations. The unique combination decreases edge chipping, mill time, and restoration thickness. This session will review Enamic's structure, properties, and indications for clinical use.
Objective:
1. Understand the differences between interpenetrating phase materials and conventional composite resins.
2. Learn the relative properties of various chairside machinable materials.
About presenter:
Dr. Russell Giordano II is an Associate Professor and Director of Biomaterials at the Boston University Goldman School of Dental Medicine and an Associate Professor in Materials Science and Engineering He directs numerous research projects on a variety of dental materials, presents didactic materials science courses, and supervises the use of CEREC in the postdoctoral clinics.
Dr. Giordano received a D.M.D., certificate in prosthodontics and D.Med.Sc. at the Harvard School of Dental Medicine and is a Fellow of the Academy of Dental Materials. Dr. Giordano worked on the development of the CEREC Vitabloc MKII at the Massachusetts Institute of Technology as a postdoctoral student. Since 1987, he has been actively involved in materials development and testing for CAD/CAM systems, tissue engineering, and restorative materials at M.I.T., Harvard, and Boston University. Research in materials at Boston University lead to the development of Enamic, a novel machinable block material.
Dr. Giordano lectures nationally and internationally and serves on the editorial board of several journals including the Journal of Dentistry and Journal of Biomedical Materials. He is active in the development of US and International standards for dental materials. He serves as the chairman of the ADA CAD/CAM Standards Committee for zirconia and serves as the U.S. expert on dental ceramics.