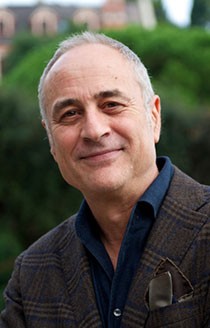 Color and functional aspects in restorative dentistry using composite materials
Lecture Description:
Today's dentist has a wide choice of restorative materials available when replacing missing or damaged tooth structures.
Since introduction in dentistry of composite resins, those materials have undergone a tremendous development and their adhesive properties on both enamel and dentin have been constantly improved, allowing a more conservative approach during the tooth preparation. Patients' demands for a more aesthetic and metal-free restoration on posterior and anterior teeth increased during the last decade focusing the interest of the dental profession towards aesthetic restorations with composite resins.
However, it is vital that the treating clinician have a thorough understanding of the principles that lead to a successful outcome.
Naturally appearing and problem free outcome can be achieved if certain rules are followed by a conscientious operator.
About presenter:
Dr Roberto Spreafico obtained his DM degree at Turin University, Italy, in 1982. In 1986, he obtained a DMD degree, at Geneva University, Switzerland. He is now a private practitioner, in Busto-Arsizio, near Milan, Italy. He is active member of: Accademia Italiana di Conservativa, European Academy of Esthetic Dentistry.
Founder and active member of Italian Academy of Esthetic Dentistry. Founder of Digital Dental Academy , Founder of International Academy for Digital Dental Medicine. Associate Editor of "European Journal of Esthetic Dentistry". Member of the editorial board of: Journal of Adhesive Dentistry; Dr Spreafico presently conducts a number of courses in the field of esthetic dentistry throughout Italy and abroad. He is also author of numerous clinical papers on this topic. Author of 16 book chapters . Co-authored the book " Adhesive Metal-Free Restorations : current concepts for the esthetic treatment of posterior teeth." by Quintessence Publishing Group (1997).
Advantages related to adhesive esthetic dentistry dentistry
How to achieve excellent anatomy in both occlusal and proximal area
How to get invisible composite restorations