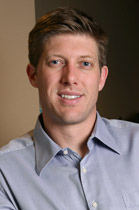 Friday, September 23, 12:00-1:00
Lunch and Learn: Color Science and the Clinical Dentist
Lecture Description:
The clinical dentist needs to have a basic background in color science education along with an understanding of the specific issues that they face when trying to evaluate and communicate color in the clinical setting. Concepts such as the physiology of color vision, drug-induced ocular side effects, saccadic movement processing and clinical optical effects will be discussed.
Objective:
This lecture will give an overview of color science as it relates to the clinical dentist. It will provide the audience with specific concepts that can be used in clinical practice improve color related outcomes.
About presenter:
Chad J. Anderson, M.S., D.M.D., is a Research Instructor in the Department of Prosthodontics and Operative Dentistry at Tufts University School of Dental Medicine with a focus on clinical materials research. During his graduate work he developed a digital system that quantitatively analyzes small increments of color change. This process in the past ten years has been used in clinical research around the world. He has presented and authored abstracts and articles in the area of color science and materials in dentistry. Dr. Anderson has also worked with companies such as Procter and Gamble, Philips Electronics, Ultradent, Kerr, Parkell, and Dentsply Caulk in developing and testing new products that are currently available for professionals and for over the counter consumer use.