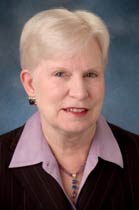 Friday, September 23, 12:00-1:00
Lunch and Learn: Innovative Instructional Approaches to Increasing Student Engagement in Learning about Color and Appearance
Lecture Description:
This Lunch and Learn program will focus on exploring instructional strategies to engage students in the process of learning about color and appearance. Clinical cases will be used to model these teaching strategies.
Objective:
After attending this Lunch and Learn, participants should be able to:
• identify three instructional strategies to increase learning opportunities for students
• compare and contrast interactive strategies for teaching color and appearance
• describe the advantages and strategies of using questions to increase interaction in the instructional setting
• discuss strategies for incorporating clinical cases into the teaching and learning environment
About presenter:
Dr. Paula O'Neill is a tenured professor of Diagnostic Sciences and the Associate Dean for Educational Research and Professional Development at The University of Texas School of Dentistry at Houston. She has presented over 250 invited seminars worldwide on teaching and learning, served two terms on the Editorial Review Boards of the Journal of Dental Education and Computers in Nursing, chaired two NIH study sections and is a member of ADEA's Commission on Change and Innovation (CCI). She has been the principal investigator for numerous educational research grants and is the principal investigator for The Robert Wood Johnson Foundation Summer Medical and Dental Education Program now totaling $2,400,000 and the HRSA funded Hispanic Center of Excellence totaling $3,300,000. She is a senior consultant for the American Dental Education Association/Academy for Academic Leadership Institute for Teaching and Learning. Dr. O'Neill is a 2002 fellow of the Executive Leadership in Academic Medicine (ELAM) Program for Women. She is a founding member of the University of Texas School of Dentistry at Houston Dean's Academy of Distinguished Teaching Scholars and was elected into membership of The University of Texas Academy of Health Science Education, a statewide Academy for outstanding educators in September 2008.