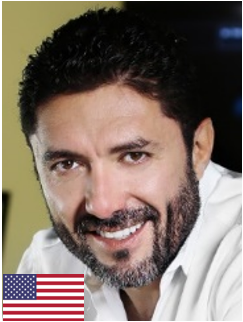 Saturday, September 10th, 2022
10:10-10:50
Three-dimensional management of dento-gingival rehabilitation
Lecture Description:
The complexity of rehabilitation of dentogingival cases goes further than the replacement of missing teeth in combination with gingival ceramics. It is a fact that it is a biological factor that influences the bone volume, the interarch relationship, and the facial musculature.
In this lecture we will show all the clinical workflows taking advantage of facial driven software, tridimensional jaw trackers, and complex manufacturing ceramics with exceptional masterclass results.
Objective:
The proper records for a facial driven dentogingival rehabilitation.
You will learn the dentogingival mock up try-in alternatives
You will understand the structural alternatives for compromised implant position cases.
About presenter:
Dr. Vasquez obtained his Doctor in Dental Medicine degree at the Metropolitan University in 1997. He obtained his Fellowship in Fukuoka, Japan and a Mastership in the USA from ICCMO (International College of Craniomandibular Orthopedics).
Dr. Vasquez the founder of Miami Natural Smiles by Oral Design Dental Clinic where together with an amazing clinical team of Doctors develop the most comprehensive and high end esthetic cases implementing the most advanced technology, science and dental art.
As part of his education commitments Dr. Vasquez is a current Clinical Adjunct Faculty at the Dental College of Augusta University in the Prosthodontist Program where he shares educational programs several times per year and also at the Biofunctional Dynamics Academy in Dijon, France, Barranquilla, Colombia and Miami, USA .
Dr. Vasquez is one of the early adopters in CAD CAM evolution for over 17 years and in the last 6 years has been an active developer into the integration and interdisciplinary treatment using 3D Data Integration.
For the past 5 years he united with Nemotec company in Madrid, Spain computer software integrated platform for interdisciplinary treatment planning.
Dr. Vasquez is a member of the world renowned organization Oral Design founded by Master Ceramist Mr. Willi Geller. He owns Oral Design Miami, dental laboratory studio focusing on high esthetics and function.
As a dentist, master ceramist, passionate education leader, clinical consultant and international speaker in the areas of occlusion, craniocervical dysfunction and high end esthetics he lives by his motto : "The limit is the sky! to dream, to learn, and to do! Live life!