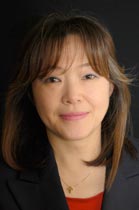 Friday, September 23, 12:00-1:00
Lunch and Learn: Gingival Color - What We Don't Know and What We Need to Know?
Lecture Description:
Although there are many factors affecting gingival color, there is little known about it. This session reviews how important gingival color is for the success of esthetic dentistry, and discusses what we need to know.
Objective:
• Structure of gingival color
• Color spectrum of gingiva and dental material
• Interaction of gingival color and ceramic restorations
• Gingival color in relation to dental implants
About presenter:
Shigemi Nagai, DDS, MDS, Ph.D. is an Assistant Professor, Department of Restorative Dentistry and Biomaterial Sciences, Harvard School of Dental Medicine. She has numerous publications on color science and clinical studies. Dr. Nagai's current research interests include a computer color matching system in dental ceramics, NIR fluorescence imaging for clinical dentistry, and biological approach of the soft tissue esthetics.