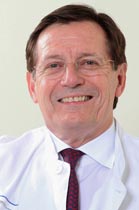 Friday, September 23, 3:35-4:00
Lecture Description:
Nowadays, the emergence of recent advances and developments in digital technologies is unavoidable in the contemporary dental practice. The application spectrum of such digital technologies covers all dental disciplines and vary between data acquisition, treatment planning and computer-aided-design/ computer-aided-manufacturing techniques (CAD/CAM). The ultimate goal of these technologies is to improve the quality and capabilities in examination, diagnosis and treatment of the dental patient. Compared to conventional methods, the employment of digital technologies in the dental practice generally facilitates improved accuracy in data acquisition and assessment, superior efficacy in treatment planning and more controlled and faster manufacturing process. This in turn will result in a higher level of patient care and better satisfaction for both the patient and the dentist. The present digital technologies offer a blueprint for future developments, which will focus on expanding the range of application and reducing manufacturing fees. This presentation will provide an overview about contemporary digital technologies that are being implemented in the dental practice, discuss their possibilities and advantages and provide insights about future developments.
Objective:
• be aware of the application spectrum of digital technologies
• decide which data acquisition, treatment planning and CAD/CAM techniques you will use for your patients
• get informed about future developments in digital dentistry
About presenter:
Dr. J. R. Strub received his D.D.S., Dr. Med. Dent. and Dr. Med. Dent. Habil. (PhD equiv) degrees from the University of Zurich, Switzerland in 1975/1985 and the Dr. h.c. from the National and Kapodistrian University, Athens, Greece, in 2008. He was a Visiting Assistant Professor of Biomaterials at Tulane University and Louisiana State University, New Orleans, USA, 1982-1983. From 1982 -1983 he was Associate Professor and co-director of the Graduate Programme in Periodontal Prosthetics at the University of Zurich. Since 1988 Dr. Strub has been Professor and Chair of the Department of Prosthodontics at the Albert-Ludwigs University in Freiburg, Germany. He was a Visiting Clinical Professor of Fixed Prosthodontics at the Osaka University in Osaka, Japan in 1996. Since 2009 he is Visiting Professor at the University of Pensylvania (Dept. Preventive and Restorative Sciences), Philadelphia, USA. Since 2010 2010 Sun Yat-sen University, Guanghua, School of Stomatology, Guangzhou, China and King Saud University, School of Dentistry, Riyadh, Saudi Arabien. Since 2005 he is Associate Dean for Clinical Affairs at the Albert-Ludwigs University in Freiburg, Germany. Dr. Strub is married and has one child.