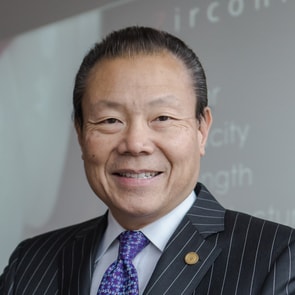 Saturday, October 20
1:00-1:30
Novel Methods for the Management of Dento-alveolar Defects in the Esthetic Zone
Lecture Description:
Restoring a patient's appearance when soft and hard tissue defects are present constitutes one of the most di cult challenges in dentistry. This is particularly di cult in scenarios that include dental implants and a high smile line. Traditional bone augmentation procedures often result in complications and inadequate peri-implant soft tissue architecture. This presentation will focus on the predictable esthetic management of high-risk compromised sites, demonstrating the use of contemporary interdisciplinary and novel strategies for the treatment of peri-implant esthetic dilemmas and complications. Restorative contour management, orthodontic forced eruption, and S.M.A.R.T. Minimally Invasive Bone Grafting will be discussed.
Objective:
• Review implant treatment alternatives for the anterior region.
• Present a protocol for immediate implant placement in the esthetic zone.
• Review restorative contour concepts and techniques.
• Discuss the limitations of surgical and prosthetic management of peri-implant esthetic complications.
• Demonstrate the use of interdisciplinary approaches to develop single and multiple tooth and implant sites.
• Discuss the role of orthodontic forced eruption in the esthetic zone.
• Introduce the S.M.A.R.T. Minimally Invasive Bone Grafting method.
About presenter:
Dr. Ernesto Lee is an internationally renowned Master Clinician, Innovator and Educator. He is the developer of the S.M.A.R.T. Method, a nov- el Minimally Invasive Bone Grafting Procedure that enhances predictability, with less pain, less swelling and fewer complications. Dr. Lee is also the Founder and Chief Executive O cer of S.M.A.R.T. Biomedical LLC, a startup company focused on innovative solutions for minimally invasive bone regeneration.
Dr. Ernesto Lee is additionally a Clinical Profes- sor and the former Director of the Postgraduate Periodontal Prosthesis Program at the Universi- ty of Pennsylvania School of Dental Medicine. Dr. Lee graduated summa cum laude from the University of Panama, in his native country. He holds dual specialty degrees in Periodontics and Periodontal Prosthesis/Fixed Prosthodon- tics from the University of Pennsylvania.
Dr. Lee is the author of several articles and book chapters. Additionally, he is one of the editors of the third edition of Dr. Ronald Goldstein's Esthetic in Dentistry textbook, along with Drs. Stephen Chu and Christian Stappert. Dr. Lee has dictated over 200 lectures, including presentations before the European Academy of Esthetic Dentistry, American Academy of Aesthetic Dentistry, Academy of Osseointegra- tion, American Academy of Periodontology, Greater New York Academy of Prosthodontics, American Association of Oral and Maxillofacial Surgeons and the International Symposium in Periodontics and Restorative Dentistry.
Dr. Lee's private practice is located in Bryn Mawr, Pennsylvania; a suburb of Philadelphia, and is limited to Fixed Prosthodontics and Im- plant Dentistry, with an emphasis in Esthetic Dentistry.