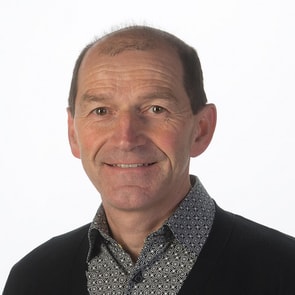 Friday, October 19
3:15-3:45
"Analogue versus Digital" Anterior and Posterior
Lecture Description:
Clinicians and dental technicians have access to an astounding array of new technologies, tools and materials to design predictable beautiful smiles.This presentation puts an emphasis on a close co-operation between prosthodontist, periodontist and dental technician. In addition, a focus is placed on different surgical, clinical and prosthetic techniques to achieve successful aesthetics. Material selection is fundamental in management of complex rehabilitation and on implants. The aesthetic outcome and the natural appearance of the restoration depends on the skills of the dental technician. Understanding of the gingiva by the dental technician will be explained to re-create in a two-way communication an aesthetic end result. New concepts and trends with focus on zirconium dioxide
and its excellent long-term behaviour and extraordinary mechanical properties, will be discussed to realize predictable natural oral aesthetics around implants and natural abutments. The di erences between analogue and digital layering technique will be explained to create a natural looking incisal edge and basic colors of the dentition. With new software we can choose occlusal plans out of the library and will simplify our daily work.
Objective:
• Creating aesthetics by using FCZ or partial veneered posterior and anterior region
• Directly after surgery installing of final Zirconia abutments and provisional restoration/final restoration.
• What is the benefit using Full contour zirconia by single tooth replacement.
About presenter:
Graduated in Dental Technology in 1979 at the Dental Technician School "Anneessens" in Brussels/Belgium Moved to Cologne/Germa- ny from 1979 - 1984 to specialize in di erent milling - and ceramic layering techniques
In 1988 attending an intensive three-day ceramic course at master ceramist Klaus Müter- thies in Gütersloh/Germany
In 1989 winners (with Luc) of the international contest "Newcomer '90", organized by Das Dental Labor, Munich/Germany
In 1993 attending an intensive two-day course "The biomechanical occlusal surface"at Dieter Schulz in Nürnberg/Germany
Numerous publications in international dental journals on a regular basis in the field of esthetic implantology and esthetics in general
Lectures, table-clinics and hands-on courses regularly all over the world
Co-writers ( with Luc) of the text book "Implant Prosthodontics" – Verlag Neuer Merkur -Munich/Germany
Co-writers (with Luc) of the text book "Ceramic Restoration Techniques"- Concept & Text – Fuchstal/Germany
Writers (with Luc) of the text book "Implant Aesthetics" Teamwork Media – Fuchstal/Germany
Writers (with Luc) of the text book "Crown – Bridge and Implants: The Art of Harmony" Teamwork Media – Fuchstal/Germany
Pilot Laboratory of the Vita Zahnfabrik Company
Global Speakers of Nobel Biocare
Winners of the"Teamwork Award"Brescia/Italy for the best article of 2009
Members of the International Academy of Digital Dentistry
Members of the Scienti c Advisory Board of the "International Society of Digital Dentistry"