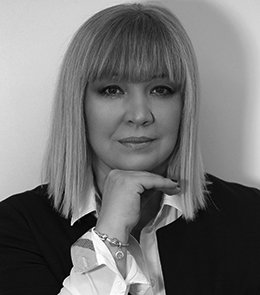 Saturday, September 14
9:45-10:15
Dubravka Knezovic Zlataric, DDS, MS, PhD
Predictable Color Management in Different Esthetic Dental Treatments
Lecture Description:
Color presents one of the most important parameters when it comes to a patient's assessment of the quality of dental treatments. Demands for procedures that restore and improve the patient's appearance increase every day. A great progress has been made recently in digital techniques of shade evaluation, analysis and interpretation of components responsible for dental color. At the same time, advancementin dental materials offer both clinicians and dental technicians various options to achieve the best possible solutions in respect to color. The lecture will present clinical steps to predictable color management in two different esthetic dental treatments - tracking the whitening progress in combined in-office/at-home whitening treatment and systematic approach of color control in fabrication of feldspathic CAD-CAM veneers.
Objective:
Discussion on the use of digital techniques in clinical shade assessment
Discussion on the need for implementation of combine in-office/at-home whitening treatment in everyday clinical practice
Discussion on the indications and use of feldspathic CAD-CAM material to restore the color of maxillary anterior teeth successfully
About presenter:
Dr. Knezović Zlatarić is Professor of Prosthodontics in the Department of Removable Prosthodontics and Head of Ellective Lecture "Basics of Esthetic Dentistry" at the School of Dental Medicine, University of Zagreb, Croatia, where she gained her clinical certificate in Prosthodontics and completed PhD. 
As a member of European Prosthetic Association she was awarded three times - for the best presented scientific study,  poster presentation and for the young investigators in the fields of Prosthodontics. In 2007, she was the winner of the second place for outstanding poster presentation at the meeting of the International College of Prosthodontists in Fukuoka, Japan. Professor has been the principle investigator and project manager of several scientific projects financed by Ministry of science and University of Zagreb, Croatia.
Professor's research and clinical focus is on various esthetic dental treatments with emphasis on minimally invasive procedures restoring teeth to their natural appearance.