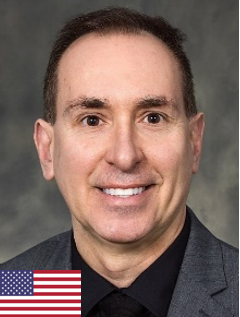 Friday, September 9th, 2022
13:10-13:50
Shade selection & shade reproduction for direct composite restorations: Is there a recipe to replicate nature?
Lecture Description:
The purpose of this presentation is to highlight the importance of shade selection and shade reproduction in the final aspect of direct bonded composites using different materials and techniques to achieve natural looking restorations. This program will help the participants to achieve excellent esthetics outcomes, optimal function and affordable solutions for direct composite restorations while preserving natural tooth structure.
Objective:
Understand the light propagation in dental tissues and dental composites for different incremental direct build-up techniques;
Explain the difference between shade selection and shade reproduction;
Chose specific materials and build-up techniques that most closely mimics the optical properties of natural tooth structures.
About presenter:
Dr. Maia is a clinical associate professor and the discipline coordinator in the Department of Cariology, Restorative Sciences, and Endodontics at the University of Michigan School of Dentistry. He holds a Certificate in Operative Dentistry and in Periodontology from the Brazilian Air Force. He earned an M.S. and Ph.D in Restorative Dentistry from the Rio de Janeiro State University, Brazil and completed his postdoctoral training at the UIOWA - Dows Institute of Dental Research. He served as a Co-Director of the Advanced Education Program in Operative Dentistry at the UIOWA from 2015-2020.
As a clinician and a scientist his research goal is to blend basic science and cutting-edge technology to expand interdisciplinary collaborations aiming to enhance the knowledge in the area of light interaction in dental tissues/biomaterials and seek for new standards to allow clinicians to achieve restorations with light properties that closely replicate the natural appearance of dental tissues.