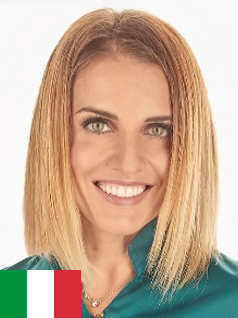 Friday, September 9th, 2022
10:50-11:30
Pink and white - getting it right: Soft tissues health and appearance in esthetic rehabilitation
Lecture Description:
The achievement of an excellent esthetic result is a combination of dental harmony and gingival tissue harmony.
In aesthetic rehabilitations, an optimal appearance of the periodontal tissues is essential. Therefore, optimal integration of restorative work and periodontal tissue management is a key factor in achieving the best tissue health and aesthetics. We will see how adopting a biologically integrated approach at the most favourable treatment and surgical times will allow us to achieve greater clinical success.
Objective:
How to integrate dental and periodontal tissue evaluation into aesthetic planning
How to choose the right treatment procedure and timing in different clinical situations
How to integrate restorative treatment and surgical management of periodontal tissues to achieve long-term esthetic success
About presenter:
She was born in Casarano in 1979, she graduated with honors in Dentistry and Dental Prosthetics at the University of Bari. She has participated as a speaker at several international scientific congresses and Masters. Active member of the Italian Academy of Conservative and Restorative Dentistry and Italian Academy of Esthetic Dentistry. Master Member of the Adhestetics study group of dr. Federico Ferraris. She works as a freelancer in her studies in Galatina and Casarano, dealing exclusively with restorative and aesthetic dentistry and periodontology.
Incoming General Secretary of the Italian Academy of Conservative and Restorative Dentistry