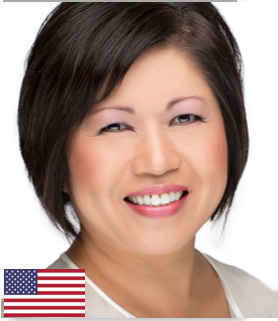 Friday, September 9th, 2022
10:10-10:50
Collaborative goal setting for improved patient outcomes
Lecture Description:
SYNOPSIS: Exchanging ideas and working together at the beginning of patient care utilizes the collective expertise to formulate a solution. A shared vision between providers from the diagnosis, sequencing and treatment execution allows for the best treatment outcome. Integrating new technologies such as intra-oral scanners, CBCT, and CAD/CAM can help improve communication, precision, efficiency and contribute to more predictable results.
Objective:
What components are critical when working with other clinicians?
How to sequence the treatment plan with other co-therapists?
Effective follow-up for predictable patient outcomes.
About presenter:
Dr. Jean Wu obtained her Bachelor of Dental Science from the University of Melbourne and Doctorate of Dental Surgery from the University of Tennessee. She has her Masters in Prosthodontics and also a certificate in Maxillofacial Prosthetics. Dr. Wu is a member of the American College of Maxillofacial Prosthetics, American College of Prosthodontists, American Association of Women Dentists, American Dental Association and the California Dental Association. Wu is Partner in the Sheets, Paquette and Wu Dental Practice, practicing as a Prosthodontist, specializing in the replacement of missing tooth structures with veneers, crowns, implants and dental prostheses. Dr. Wu is also the Educational Director of the Newport Coast Oral Facial Institute, a non-profit international teaching and research center where she instructs dentists from around the world on the use of the clinical microscope in dentistry. She has published over 15 articles, co-authored several textbook chapters, and Editor of the Pacific Coast Society for Prosthodontics.